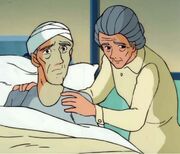 Ensign Yoshikazu Aihara (相原義一, Aihara Yoshikazu/Giichi?)
chief communications officer, Aihara becomes homesick during the journey to Iscandar after discovering his father on Earth was dying; in his madness he steals a spacesuit and attempts to float home before being rescued by his comrades. A Gamilan relay satellite had been the cause of the stressful transmissions reaching the Yamato, and Aihara destroyed the satellite.
In Japanese, the kanji for his given name can be read in two ways; the reading "Yoshikazu" is used in episode 10 of the first season, but (owing to an error) he gives his name as "Giichi" in the third season.
Aihara's favorite song is Kitakami Yakyoku (北上夜曲).