Yōko Asagami
麻上洋子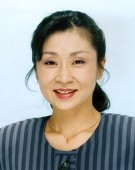 Yōko Asagami (麻上洋子, Asagami Yōko?, born July 10, 1952 in Otaru, Hokkaido and raised in Fujisawa, Kanagawa) is a veteran seiyū who is represented by Aksent. Her married name is Yōko Ōkubo (大久保洋子, Ōkubo Yōko?).
She is most known for the roles of Yuki Mori (Space Battleship Yamato) and Saeko Nogami (City Hunter).
In 1992, she began to study traditional Japanese storytelling kōdan under the master Teisui Ichiryūsai (一龍斎貞水, Ichiryūsai Teisui?). By 2004 she had risen to become a star kōdanshi. In 2012 she changed her professional name to her yagō, Harumi Ichiryūsai (一龍斎春水, Ichiryūsai Harumi?).[1]
She declined to take part in Yamato Rebirth[2]
External links
Edit
Ad blocker interference detected!
Wikia is a free-to-use site that makes money from advertising. We have a modified experience for viewers using ad blockers

Wikia is not accessible if you've made further modifications. Remove the custom ad blocker rule(s) and the page will load as expected.