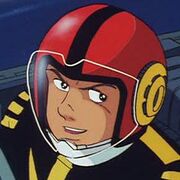 Shigeru Sakamoto (坂本茂, Sakamoto Shigeru?): an ace fighter pilot who joins the training mission. A born hot-dogger, his stunts earn him a slap in the face from acting captain Susumu Kodai. He is not seen again after The New Voyage, although he does appear in the PlayStation 2 games.
Ad blocker interference detected!
Wikia is a free-to-use site that makes money from advertising. We have a modified experience for viewers using ad blockers

Wikia is not accessible if you've made further modifications. Remove the custom ad blocker rule(s) and the page will load as expected.