The
Polmeria-class Astro Assault Carrier
is a type of fighter carrier in the
Garmillas Imperial Astro Fleet
.
Armaments and Technical Specifications
Edit
The Polmeria-class carrier is 383.8 meters long, 291.3 meters wide, and 50 meters in height. It has three twin missile launchers and a large caliber laser cannon on the ventral side.[1]
Polmeria class ships carry DWG229 Melanca strike fighters and FG.156 Sumaruhe reconnaissance aircraft ("Messenger of Iscandar", "Toward a Sea of Stars", "Point of No Return", "One Man's War").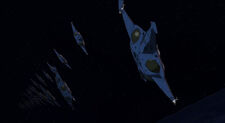 A
Polmeria
-class carrier based in
Earth
's
solar system
investigates the secret launch site of the new battleship
Yamato
in early 2199. It bombards the camouflaged
Yamato
, but is quickly destroyed ("
Messenger of Iscandar
", "
Toward a Sea of Stars
").
References
Edit
↑ Official Space Battleship Yamato 2199 Garmillas Mecha Book p. 70
Ad blocker interference detected!
Wikia is a free-to-use site that makes money from advertising. We have a modified experience for viewers using ad blockers

Wikia is not accessible if you've made further modifications. Remove the custom ad blocker rule(s) and the page will load as expected.