The new EDF battleship is a successor to the Unmanned battleship and Main battleship. It was equipped with a number of missile and torpedo tubes, three turrets each with three barrels. It had a wave motion gun at the front. Although they were powerful vessels, they were ill-equipped to defend themselves from the Hyper-radiation missile. The engine was enclosed like ships in 2199, they also had a double bow.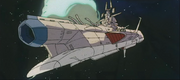 Ad blocker interference detected!
Wikia is a free-to-use site that makes money from advertising. We have a modified experience for viewers using ad blockers

Wikia is not accessible if you've made further modifications. Remove the custom ad blocker rule(s) and the page will load as expected.