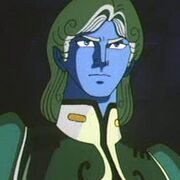 Lugal de Zahl (ルガール・ド・ザール, Rugāru Do Zāru?): elder son of the Dingirian leader, a young military commander who shows no mercy to his enemies, and has no qualms about firing on unarmed civilian transports, or even rescue ships tending to the wounded. However, when defeated by the Yamato (as well as a fleet of Earth warships) he is humiliated before his father, and becomes ever more determined to destroy the Earth ship, but when the rest of his fleet is destroyed, he turns tail and flees the battlefield, only to crash into the Neutrino Beam Shield of Uruk.
Ad blocker interference detected!
Wikia is a free-to-use site that makes money from advertising. We have a modified experience for viewers using ad blockers

Wikia is not accessible if you've made further modifications. Remove the custom ad blocker rule(s) and the page will load as expected.