Gorō Naya
納谷悟朗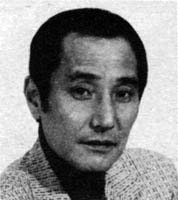 Goro Naya (納谷 悟朗, Naya Gorō?, born November 17, 1929) was a veteran seiyū who was born in Hakodate, Hokkaidō. His younger brother is seiyū Rokuro Naya. He was a drop-out of the legal education division of Ritsumeikan University.
He is most known for the roles of Koichi Zenigata (Lupin III), Juzo Okita (Space Battleship Yamato), and Shocker Great Leader (Kamen Rider).
Naya had been diagnosed with Stomach cancer; affecting his seiyu career. This also led to Zenigata's role in the recent TV specials being recast.
He died on March 5, 2013 at 3am of chronic respiratory failure in Chiba.
Voice roles
Edit
External links
Edit
Ad blocker interference detected!
Wikia is a free-to-use site that makes money from advertising. We have a modified experience for viewers using ad blockers

Wikia is not accessible if you've made further modifications. Remove the custom ad blocker rule(s) and the page will load as expected.