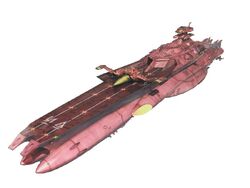 The
Darold
was a
Gelvades-class astro battlecarrier
of the
Great Garmillas Imperial Astro Fleet
.
The Darold took part in the Battle of the Rainbow Star Cluster, under the leadership of Colonel Dora Barek. During the battle, the Darold launched a DBG.88 Garont heavy bomber armed with a weaponized asteroid mining drill at the Yamato. The Darold was ultimately destroyed when the drill missile was fired back at it and detonated by a shot from one of the Yamato's shock cannons ("Under a Rainbow Sun").
Japanese language information
Edit
ダロルド Darorudo
Ad blocker interference detected!
Wikia is a free-to-use site that makes money from advertising. We have a modified experience for viewers using ad blockers

Wikia is not accessible if you've made further modifications. Remove the custom ad blocker rule(s) and the page will load as expected.