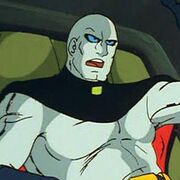 Daeder (デーダー, Dēdā?): commander of the flagship Pleiades. When the Gamilas fleet attacks the Black Nebula forces mining their homeworld and cause the planet's destruction, Daeder in turn attacks them and pins them down in the seas of Iscandar. When the Yamato attacks, he attempts to position his ship between the Earth vessel and Iscandar to discourage use of the Wave Motion Gun, but is destroyed when the planet starts moving on it's own, due to it's Core instability. After Pleiades destruction, Iscandar develops more speed, until it Warps itself.
Ad blocker interference detected!
Wikia is a free-to-use site that makes money from advertising. We have a modified experience for viewers using ad blockers

Wikia is not accessible if you've made further modifications. Remove the custom ad blocker rule(s) and the page will load as expected.