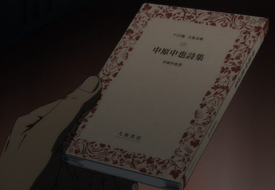 Chuya Nakahara Poems
(中原中也詩集
Nakahara chūya shishū
) is a collection of poetry written by the twentieth century
human
Chuya Nakahara. Poems included in the collection draw on themes of purity and nature ("
Out of the Forest of Memory
").
Nakahara's poetry continues to attract readers in the late twenty-second century, and Mamoru Kodai owns a print edition of Chuya Nakahara Poems. In 2192, he loans it to a classmate and close friend, Shiro Sanada, who is looking for a way to balance his scientifically oriented view of the world. Almost seven years later, Sanada attempts to return the book before Kodai leaves to fight in the First Battle of Pluto. Despite Sanada's confession that he still cannot understand the attraction to poetry, Kodai insists that he keep it ("Out of the Forest of Memory"). Sanada continues to read Nakahara's verses during his service aboard the space battleship Yamato, and routinely carries the book with him both on and off duty ("Gravestone on a Frozen Field", "The Forever War", "Memories of the Blue Planet").
External Link
Edit
Ad blocker interference detected!
Wikia is a free-to-use site that makes money from advertising. We have a modified experience for viewers using ad blockers

Wikia is not accessible if you've made further modifications. Remove the custom ad blocker rule(s) and the page will load as expected.